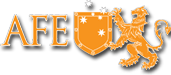 CLIENT ACCOUNT APPLICATION FORM
This form is to be completed by persons wishing to establish an Anglo Far-East Bullion Account.
This should take approximately 3 minutes to complete.
A friendly, customer oriented representative of AFE will contact you to assist you further and answer any questions that you have.
This application does not obligate you to fund your account, however accounts must be funded within 30 days to remain active.
A final account approval will require you to complete some additional forms, but this can all be done quickly online.